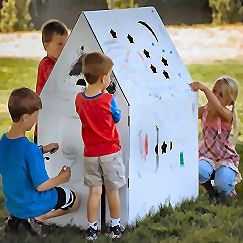 I've been covering the children's cardboard industry long enough to know that recycling is the norm. What I don't do, though, is go around trading on my purported reputation as a toy expert by anointing straightup knockoffs with meaningless awards.
Which reminds me. The Color Me House, which was introduced in late 2008 by Oregon "mompreneur" April McCray, has received a Best Classic Toy award from Dr. Toy, aka Steveanne Auerbach.

The Color Me House is such a clone of Nume Design's Cardboard Activity House, they could have come from the same gated cardboard community. Design Within Reach was selling Nume's paintable house as early as 2005; since it was a hundred freaking bucks for a cardboard box, it ended up on $15 clearance in 2007, by which time Nume had already designed v2.0. Dutch cardboard dollhouse and playhouse developers kidsonroof, meanwhile, were at it just as early and just as long.
And while cardboard rockets are as old as me, but Paperpod has been making rockets and houses out of recycled cardboard in Canada and the UK since at least 2007.
McCray is obviously sharp enough not to make any claims of originality herself, and kudos to her for scoring a distribution deal with Costco for her $40 sheds. That makes more business sense than selling hundred dollar boxes imported from Europe in some boutique. Fine. You can go.
But Dr. Toy and the Award Industrial Complex, I'm not done with you. This is at least the second time that Dr. Toy has given a bald-faced knockoff an award. In 2007, she gave a Best New Ride-On Toy award to the Skuut, the Chinese-made copy of the original walking bike, the Like-a-Bike. If this happens again, I'll have to start my own Daddy Types Awards, and I don't want to deal with the paperwork.
Color Me House
Previous Dr. Toy shenanigans: Skuut: suspiciously like a Like-a-Bike, but with huge ballsView image