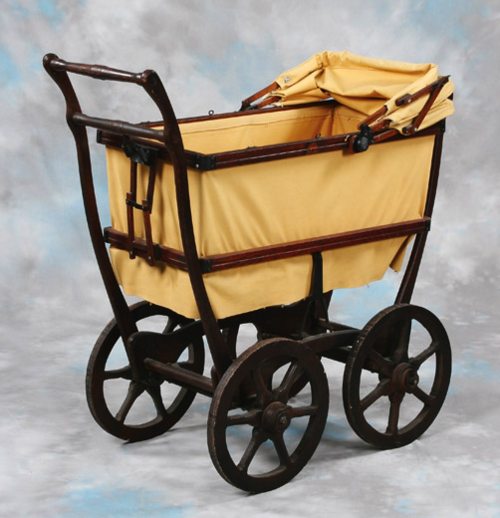 Southern California auction house Profiles in History specializes in movie memorabilia and historical documents and such. Their Spring sale on April 30th-May 1st includes items from the incredible sci-fi collection of the late Forry Ackerman; a whole slew of props from Blade Runner, including some of Deckard's most Williwear-able, 80s-futuristic costumes, and a prop throne from Tyrell's apartment which was also used in The Ten Commandments; there's an original Swiss Miss instant cocoa marionette from the 1970's, complete with her case full of 20 interchangeable facial expressions; and--somewhat related--Jason's "Creepy doll from Friday the 13th.
But hey-ho, who cares? Because the buggy from the train station shootout scene in Brian de Palma's The Untouchables is for sale, too! Except for its inspiration, the long-lost original pram Eisenstein used in his staging of the Odessa Steps scene in Battleship Potemkin, this is the Most Important Stroller In Cinema History.
Well, there was that one from the poster of Whatever Happened to Rosemary's Baby?, and there was probably one in Three Men And A Baby... But who cares? Believe the hype! Prep the $4,000-6,000 estimated for the win! Have Kevin Costner and Andy Garcia ever steered you wrong??
UPDATE: OK, it's pretty clear I stepped in it by calling this the most famous stroller in cinema. SO. if it's not dePalma, what is the most famous stroller in cinema? Put your suggestions below; we need a montage.