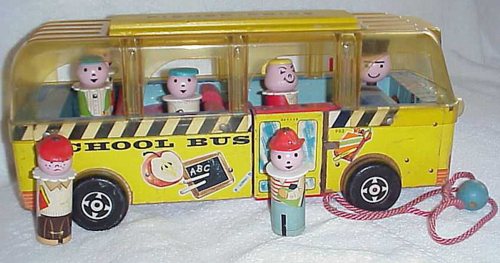 What could warm a parent's heart more than sharing a treasured memory of a favorite toy with his own child? Today, March 21st, is the "officially marked" 50th birthday of Fisher-Price's Little People.
That's right, the awesome little figurines which were ruined in 1990 by Fisher-Price and some pesky choke hazard regulations from the Nanny State first went on sale 50 years ago today. The momentous occasion was celebrated across the land in--where else?--Toys R Us stores. Did you buy anything to mark the historic moment, which fortuitously fell on a weekend?
Because it's totally made up marketing nonsense.
Fisher-Price was gluing recognizable Little People--peg-shaped, ball-headed figures--into their trucks for years. 1959 is just the year someone finally figured out they might be more fun if they were detachable. So if it's anything at all, #983, the Safety School Bus is the toy that marks the end of Little Peoples' years of subjugation by the tools of their corporate overlords.
Also made up: the March 21st thing. The 40th anniversary of Little People was held, as expected, in 1999, in conjunction with the annual ToyFest celebration in Fisher-Price's hometown of East Aurora, New York on August 28th.
Personally, I'll be marking my 2010 calendar--with a dart--to celebrate the 50th Anniversary of the first Little Family, who first pulled up in #234, the Nifty Station Wagon, in 1960. With its fake wood paneling and the convertible roof, the sweet, Rambler-looking wagon was way ahead of its time. And you know what? Screw it, so am I. Happy 50th Anniversary, Nifty Station Wagon!

Happy Birthday, Little People! [crunchgear]
Our LIttle People Friends are turning 50 [some time this year, we don't care when exactly]! [fisher-price.com]
For bigger images and comprehensive-if-labyrinthine info from the Little People Experts, check out This Old Toy [thisoldtoy.com]
Aug 28, 1999: Fisher-Price Little People Celebrate 40th Birthday at ToyFest [press release, via thefreelibrary.com]