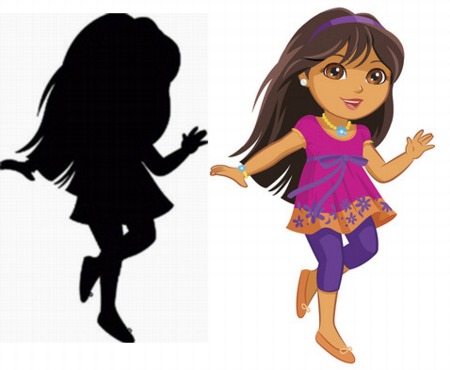 I knew it was a bad week, finger-on-the-pulse-wise when I learned about Nickelodeon and Mattel's plans to launch Tween Dora on NPR's weekend quiz show, "Wait, Wait, Don't Tell Me." But I needn't have worried. That was just the first round of Nick's Shock & Awww media strategy, fomented by a Bratzy silhouette that made Dora look like a micromini-wearing tramp.
Now that we're all paying attention, the companies can reassure us--it's just leggings and a tunic!--about their transparent plan to keep milking the Dora cash cow even after their target customers move into kindergarten and out of the shrieky little menace's demo.
"I think there was just a misconception in terms of where we were going with this," Mattel marketing VP Gina Sirard told the AP. "The Dora we all know and love [sic] isn't going away [ever, never, not even if you pry her intellectual property from our cold dead licensing hands]," warned Leigh Anne Brodsky, president of Nickelodeon Viacom Consumer Products, and it's all parents' fault:
Nickelodeon and Mattel say that as part of unrelated research, they found parents wanted a way to keep Dora in their children's lives and have their daughters move on to a toy that was age appropriate.

"The idea is Dora for more girls," Brodsky says. "The whole point was this was created because moms said help us."
More girls, or the same girls for twice as long? And now that you mention it, who better to "help us" find age-appropriate merchandise than Mattel, which owns Barbie, and which now controls Bratz, after winning a copyright infringement lawsuit last December? And who better than Viacom to help save us from the evil, money-grubbing clutches of Disney, purveyors of such tweensploitation as Tinkerbell and Hannah Montana?
This is why you have to pick your licensed properties carefully: because once they latch onto your kid's little frontal brand-awareness lobe, they won't let go until grad school.
Uh, should read, "After baiting them"?After Dora uproar, Nick and Mattel soothe moms [ap