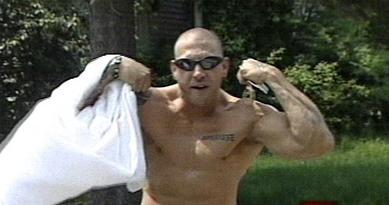 Judging from the number of people who emailed this tip to me, a lot of dads are wondering what is up with Taunton, Massachusetts' most misunderstood parenting philosopher/mixed martial arts aficionado, Stone Cold Derek Lindsay.
Last we heard, Lindsay was still busy teaching his son--by example, mind you, none of this namby pamby book-learnin' or pop-in-the-DVD crap in the Lindsay house--Important Life Lessons about how, with great power comes great responsibility. Or maybe it's how, with great unbridled rage and deep contempt for authority, comes great likelihood that you're gonna get your ass arrested and thrown in jail. Same difference.
Brockton, MA's local paper The Enterprise reports that Lindsay was arrested last night in a Middleboro tattoo parlor after stabbing a guy in a brawl, then threatening to kill anyone who talked to the police. Another man was arrested for kicking the same guy's ass. Seriously, "assault and battery with a shod foot." Before police could arrive on the scene, though, the tattoo parlor owner used his legally licensed firearm to get Lindsay and his sidekick [heh] to calm down and talk about their feelings.
This is the 142nd arraignment for Lindsay, who The Enterprise describes as a "career criminal." Considering that this time last year, he was only on his 130th arraignment [for picking a fight with the fighters--and cops--at an extreme fighting match], and he did have $4,000 cash on him last night at the tattoo parlor, so he's clearly doing something right.
Taunton man busted again in Middleboro [enterprisenews.com via like six people]
Previously, 2008: From The DT Dept. Of Corrections: Stone Cold Derek Lindsay Is A Kick-Ass Dad
2007: Stone Cold Derek Lindsay Stars In Disorderly Conduct 41: Big Mac Attack