As any serious doll collector knows, Yolanda Bello's doll designs for Ashton Drake, in her own eloquent words, "redefined doll collecting as the world knew it" when her first doll, Jason, a romping tot in a blue cloud suit designed in 1985, went from $49 retail to "$2000.00!!!" on the secondary market. Unfortunately, as Ms Bello's FAQ points out, "Since eBay all the prices of collectables have crashed to nearly nothing."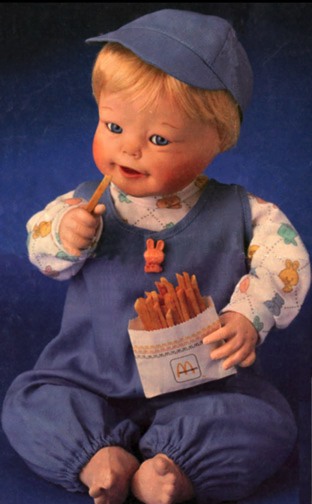 eBay may taketh away, but it surely giveth, too. Where else could you find a collectable [sic] so precious as "Eric's First French Fries," Bello's first contribution to Ashton Drake's Treats for Tots Collection, which was issued in a strictly limited edition for McMemories, The Official McDonald's Collector's Club? I believe this treasure was inspired by Bello's own son.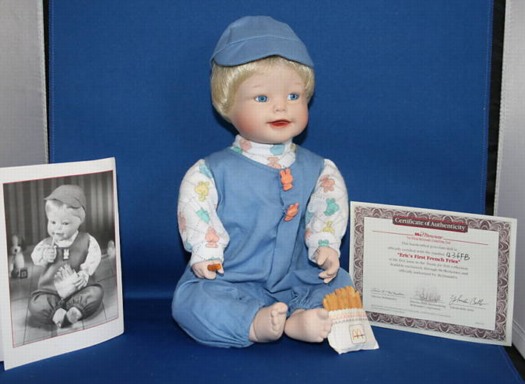 The same eBay seller who has secured this rare find is also offering an even rarer treat: the Diana Effner doll that started it all, "You Deserve A Break Today," which was the first porcelain doll ever authorized by McDonald's. Back in 1995, before it became Treats for Tots, the collection was called "The McDonald's 'n Me! Collection." You can tell it's for McDonald's because it's holding a little Ronald McDonald doll.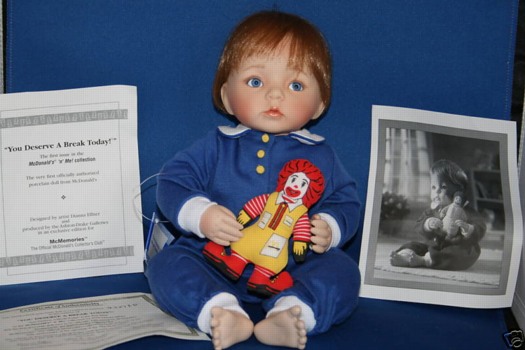 A quick search through the much-maligned eBay finds a seller offering a YDABT doll along with another, unnamed girl McDonald's 'n Me! doll. The girl is holding a small Grimace doll, but alas, since there is no box, or certificates of authenticity, these dolls are useless for anything but play.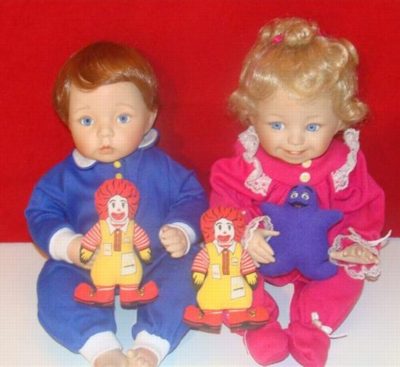 It's interesting, though, to compare these early McDonalds 'n Me! dolls with Bello's design, which came a year later. By adding the personal element of her own son, and the dynamic element of the fries, not to mention the powerful narrative moment of the title--jeez, the title just gets you right there--it's clear that Bello really redefined McMemories as the world knew it.
ERIC'S FIRST FRENCH FRIES ASHTON DRAKE MCMEMORIES DOLL at Memory Lane's eBay store, buy it now for $49+10.85 s/h [ebay]
YOU DESERVE A BREAK TODAY ASHTON DRAKE MCMEMORIES DOLL at Memory Lane's eBay store, buy it now for $49+10.85 s/h [ebay]