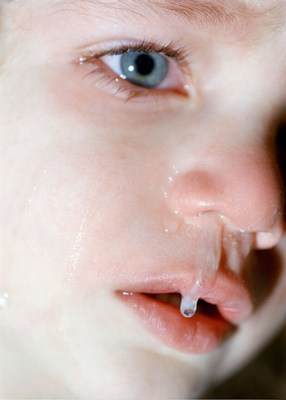 When I told her "You can pick your nose, you can pick your friends, but you can't pick your friend's nose," the kid laughed so hard I felt like George Carlin himself.
Never mind that one of the things no one tells you about becoming a parent is that you're suddenly in charge of someone else's snot: You can't pick your kids, you can't pick your nose, and yet you have to pick your kid's nose.
Which was on my mind even before both kids woke up with colds , thanks to artist Elinor Carucci's candid-and-then-some photographs of her 4-year-old twins, which were on the NY Times blog The Moment last week.
Carucci's series, titled "My Children," is included in a show about photographing childhood called "The Intimate Line," at Sepia Gallery in Chelsea. Sepia is an unusual museum/gallery hybrid, which was created in 1999 to provide public and research access to the photography collection of the Indian theatre director Ebrahim Alkazi; it also has regular buy-this type shows.
The Intimate Line runs [no pun intended] through April 18 [sepia.org via nyt, which has more photos online]