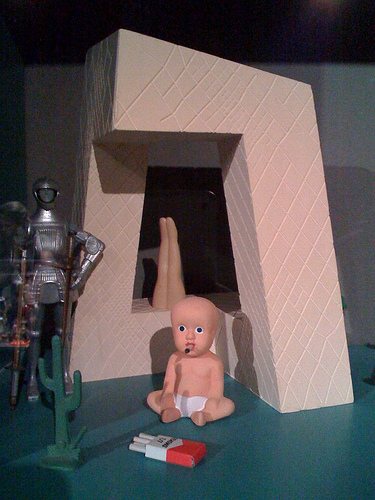 Alright, this is the last giant baby post of the day. Probably.
I've been sitting on this for a couple of weeks, but now that Paris has upped the giant baby ante, I think it's it's time.
This is Rem Koolhaas's original maquette, never-before-published for the Beijing headquarters of CCTV, Chinese state television, which shows the architect's original plan to position a 16-story baby smoking a pack of Marlboros in front of the building. Party officials nixed the sculpture, saying the puffing baby would pose an undue fire hazard. Which is pretty ironic, considering.
The model was discovered a couple of weeks ago by Yu Sun Kwon, an architect/photographer who visited the London studio of Koolhaas's ex-wife and baby mama, the artist Madelon Vriesendorp. So far, Koolhaas's office has issued no comment. [flickr]