Some friends are expecting their first kid in a couple of months, and when we had them over for dinner, the wives took the nursery tour while the men adjourned to the library to talk about important stuff, like US vs Euro-spec Maxi-Cosi.
When we reconvened in front of our Juddy Ultra-crib [which was being used as a glorified shelf at the time, like how you blow a thousand bucks on a Soloflex, only to end up hanging clothes on it] we realized we had a bunch of stuff that we have never actually used with K2.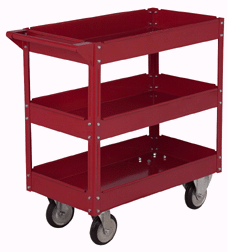 Like the kid's red tool cart/changing table. For the kid, it was convenient to have A place to change her diapers, but with K2, we find we just grab a diaper [off the cart] and change here wherever. On the floor, the bed, the other floor, the other bed...
Also unused--in fact, we didn't have one anymore and didn't even notice until our friends asked--a Diaper Genie. That thing was such a headache with the kid, but now we put K2's diapers in the little bathroom garbage can, which is lined with plastic grocery bags, which gets emptied every other day or so at least. Poo, of course, goes in the toilet. It really doesn't stink, and it really doesn't seem like a hassle at all. And while we're trying to cut plastic grocery bags out of our lives, so far, we've never run out.
I bought a footmuff/sac thing for the Maxi-Cosi that we never took out of the bag. 69 euros, which was like $500 at the time.
Unfortunately for our friends, their visit coincided with the Great Commenting Collapse of Last Month, so it may be too late to save them any money on stuff they really don't need. But since the entire Baby Industrial Complex's business model is built on selling First-Time Expectants stuff they don't realize they don't need, it still seems like a worthwhile question:
What seemingly necessary things did you get that you ended up not using once the kid arrived?
Mid-evening update: so far, the useless list includes changing tables, bassinets, moses baskets, carriers, cribs, diaper bags, clothes, and strollers. And stuffed animals.