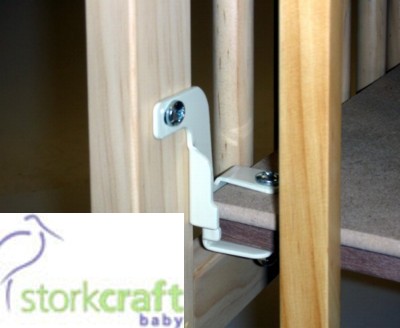 1/30 UPDATE: The short answer is NO. Totally different design and parts. Target's notification to Dwell buyers was a mistake. Details below
Last week, the CPSC issued the first giant crib recall of the year [um, yeah?] covering over 535,000 Stork Craft cribs, basically every crib the Canadian company made between May 2000 and November 2008. Apparently, the metal brackets holding the mattress platform can break, creating a gap where kids can get stuck, suffocate and die. Anyone with an affected crib should stop using it immediately and contact Stork Craft for replacement brackets. Pretty standard product recall stuff.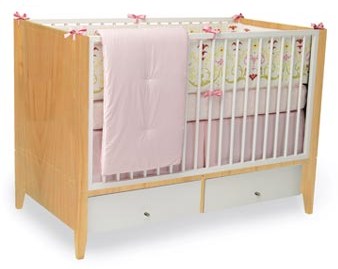 Except that Stork Craft also manufactures the Dwell cribs sold at Target [aka DwellStudio], and the recall notice makes no mention of either company. Are they included? Are Target's Stork Craft cribs immune? My bet is yes and no, respectively, but it'd be nice to have some clear information. Has anyone with a DwellStudio for Target crib received any kind of notice from either company?
Broken comments update: Apparently, yes. Three people who bought Dwell cribs from Target.com have told me they received recall notices via email from Target. Notices that also don't mention DwellStudio at all. There's an example after the jump.
1/30 Update: Actually, no. I got an email from Dwell Studio founder Christiane Lemieux saying it's incorrect that the Dwell Studio cribs were either recalled or unsafe:
The CPSC did issue a recall all of the Stork Craft Cribs, with the exception of the Dwell Studio models. The design was produced in our studio and the parts are different. The recall notices sent to DwellStudio customers were a technical error and have subsequently stopped. In addition, the owners are being notified that their cribs are not part of the recall and that the parts are indeed not the same.
So there you have it. Also, I heard earlier in the week that Dwell had switched manufacturers last year, and so Stork Craft had nothing at all to do with the current Dwell Studio cribs on the market.
Stork Craft Recalls More Than 500,000 Cribs; Mattress Support Bracket Failures Create Risk of Entrapment and Suffocation [cpsc.gov]
Previously, March 2008: Hit or Miss? Firsthand accounts of DwellStudio for Target
From: Target To: XXXXXXXXX Cc: "order-update@target.com" Sent: Friday, January 16, 2009 3:20:36 PM Subject: Product Recall Notification Regarding Your Target.com Order (#XXXXXXXX)

Hello from Target.com.

We have recently learned that Stork Craft Manufacturing (Canada), in cooperation with the Consumer Product Safety Commission (CPSC), is voluntarily recalling its baby cribs. Our records indicate that you have purchased one of the Stork Craft cribs listed in this recall through Target.com.

The recall involves all models of Stork Craft brand cribs. They were sold from May 2000 through January 2009 for between $100 and $400.

They are being recalled because the metal support brackets used to support the crib mattress and mattress board can crack and break. When one or more support brackets break, the mattress can collapse and create a dangerous gap between the mattress and crib rails.

The CPSC is urging parents and caregivers to immediately stop using the recalled cribs and find an alternative, safe sleeping environment for their baby. Guests should contact Stork Craft to receive free replacement mattress support brackets at 866-361-3321. For more information, see www.storkcraft.com.

You may also find additional details about the recall in the CPSC bulletin at: www.cpsc.gov/cpscpub/prerel/prhtml09/09093.html.

If you purchased this item as a gift for someone, please notify the recipient immediately and provide them with the information in the CPSC bulletin concerning these safety issues.

The safety of our guests is our highest priority and we're sorry for any trouble you may have experienced with this recall.

Thanks for shopping at Target.com.

Sincerely,

Online Guest Services
Target.com
http://www.target.com/contactus
1.800.591.3869