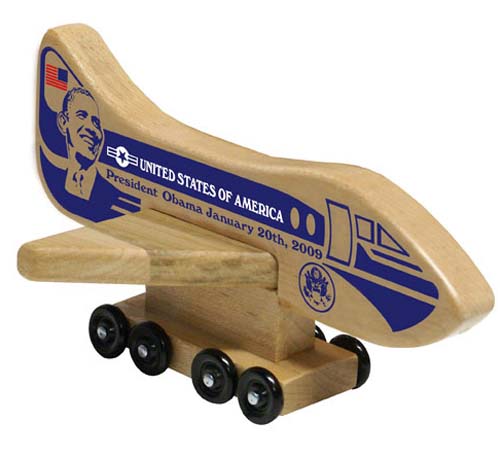 Maybe the problem is that crunchy liberals have been out of power for several breeding cycles? But it's not like the neo-con's Torture Me Elmo was a big hit, either. Maybe making toys that are simultaneously propagandistic and fun to play with is just too big a challenge for America.
Or maybe I'm just a crank who's heart was frozen down on the Mall yesterday, and this "Limited Edition Obama Airforce One Collectible Toy Plane, Made in Pennsylvania of domestic hardwoods, with non-toxic, lead-free paint and finish, as always" by Craftsbury Kids Holgate, and sold by Craftsbury Kids, would make the perfect gift.
Bitter wingnuts take note: the upside-down star in the toy plane's Air Force insignia is not actually The Sign of The Beast. It's an inclusive reminder that Obama wants to be the president of people who think he's the Anti-Christ, too.
New World Order now while supplies last! President Obama Air Force One Wood Toy Collectable, $18 [craftsburykids.com via dt reader sara]
post-complaint update: The Obama AF1 is also available directly from Holgate, the manufacturer, for the same price [holgatetoy.com]