90% of dadblogging is just what shows up. Just a few hours after I stumbled across Multiplications, I stumbled across the Yoshitomo Cube. Here's the deal: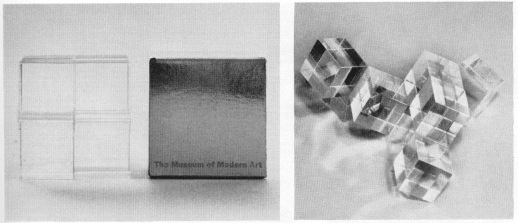 In 1969, The Museum of Modern Art commissioned artists and designers to create some slick new toys for the shop. Toy designer Betty Thomson came up with Multiplications, a beautiful assemblage of clear acrylic cubes that were hinged together with mylar. They could be unfolded flat, or stacked into a 2x2x2 cube. Her patent, filed in 1969, for a "System of hinged polygonic shapes," was awarded in 1971.
Which turns out to be the same year that Naoki Yoshimoto figured out how to nest two stellated rhombic dodecahedrons in a series of hinged cubes. MoMA started selling the Yoshimoto Cube in 1982. It promptly got knocked off in Taiwan. In 2009, the underemployed half of the Internet was hypnotized by some nerd's YouTube video of the Yoshimoto Cube in his Christmas stocking.
And as soon as I post this, Betty Thomson's Multiplications will have three Google results.
Design Journal 1969 | Make Your Own Sculpture [vads.ahds.ac.uk]
Buy a Yoshimoto Cube at MoMA Design Store, $55 [momastore.org]