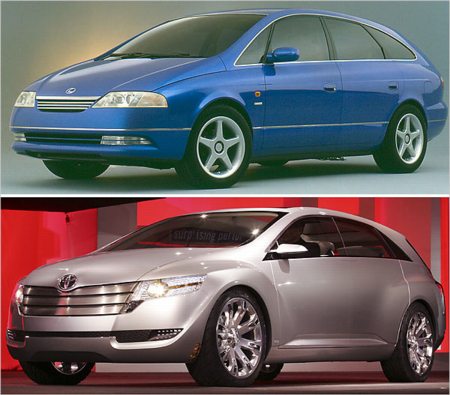 The NY Times has a quick review of the Toyota's not-a-station-wagon, the Venza, which adds a telling layer of genealogy to the car's [sic] design. Yes, it was derived from the 2005 FT-SX [bottom] but did you know that FT-SX was, in turn, a reworking of the 1995 Lexus F.L.V. [Future Luxury Vehicle]? And that the FLV was designed for people whose "life stage needs for minivans and other multipurpose vehicles is finished."
In describing the Venza, Toyota likes to say nebulous things like the Venza "fills the gap between car and S.U.V." or the Venza is "a versatile five-passenger vehicle." Could Toyota believe that consumers aren't smart enough to recognize and appreciate a stylish station wagon?

It seems likely that Toyota is worried about baby boomers, who often shun station wagons, possibly because they can't put aside unfortunate childhood issues. But baby boomers (you are my people) should grow up. The Venza isn't the boxy wagon in which you may have suffered as a child. It is a luxurious and thoroughly likable vehicle...
Yes, yes, boomers, we feel your pain. Now that your kids are gone, and you've ruined the wagon market for the the rest of us, who don't want minivans in the first place, you may grow up.
update: Dave at Cars.com wrote a solid review of the Venza that takes nest fillers into account, not just empty nesters. He says it could be a very DT ride, though even down to the little things--like a lack of a USB port on the audio system--the Venza's Boomer targeting shows. Also, the wheels are too big for no reason.

High-End Nest for Pampered Empty Nesters [nyt]