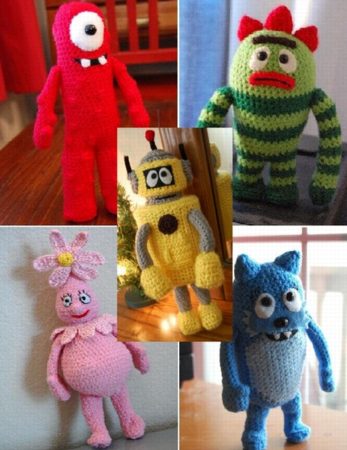 Wow. I wanna go to the crocheting party in etsy seller Crafty Is Cool's tummy, too. Sure, she's created plans and kits for making your own amigurumi versions of Yo Gabba Gabba! characters. Which is great.
But if you don't know a crochet hook from an amnihook [look it up; I'll wait], then you'll be wanting to get a custom-crocheted set of YGG! amigurumi dolls, with your choice--choke-proof or EZ-choke--of eyes and noses for just $150. Or get your favorite--I mean your kid's favorite--individual dolls for a slightly higher PPD [price per-doll].
Hey, that gives me an idea! Doesn't the show's popularity among parents and college students make Yo Gabba Gabba! gear exempt from the CPSIA lead standards? They're only for children's products, right? I think I read that somewhere, probably on the same Wikipedia page that explains the Awesomeness Exemption for copyright infringement.
Yo Gabba Gabba! and other amigurumi goodness at Crafty Is Cool's etsy shop [etsy via dt reader eric]