Or is it the new lime green? Either way, the French and/or Euros are loving the grey baby furniture. First [on my radar, anyway] was Oeuf's lower-priced Sparrow collection, which came in other colors, but which debuted in Spring 2007 with a signature mushroomy grey. [Oeuf's co-founder and designer Sophie Demenge is French-New Yorkaise, so that counts double.]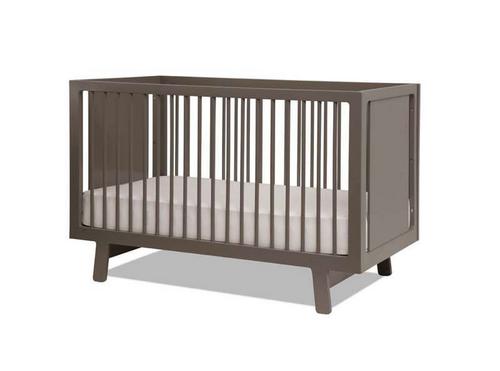 Then in September of this year, the publicists at Kind + Jugend took this photo of a booth from an outfit called Schlockermann. There's no information about the line or the company; I'd emailed the address on the placeholder website a couple of times, no response. But the sweet combination of minimal lines and battleship grey finish overcome all the overstyled drapery and Pottery Barn accessorizing.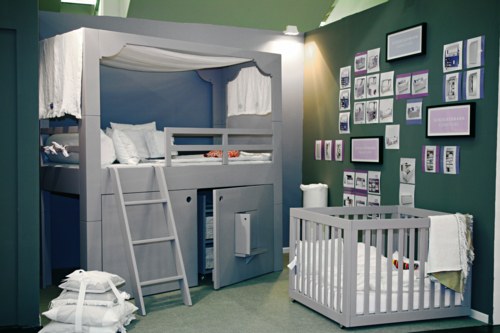 Mon Cabanon's French design blog was full of cribs as grey as the Parisian sky in December:
The August or September issue of Arts & Decoration had a nursery with a grey crib in it.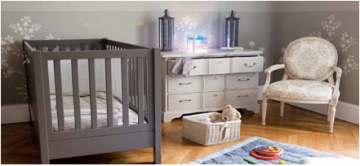 And a shop in Rouen called l'Atelier Charivari was so impatient with the new grey rollout, they've been refinishing vintage cribs themselves. [no CPSC in France, I guess.]
I'll grant that this massive, deco-looking crib is khaki, but even though they say this sleigh-like crib is taupe, it looks grey enough to me.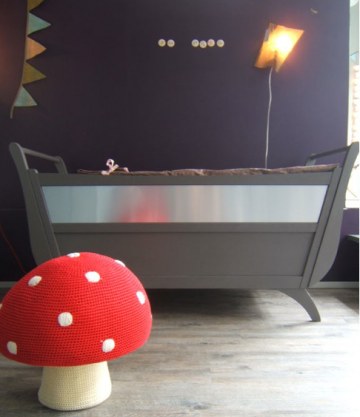 Not just cribs either--or vintage toddler beds. Everything in Rouen looks better, it seems with a fresh coat of grey, heather, or anthracite. like this old school desk from around 1900, or this great, old Marcel Gascoin table and chair set. [Though when the original patina's intact, it's worth keeping.]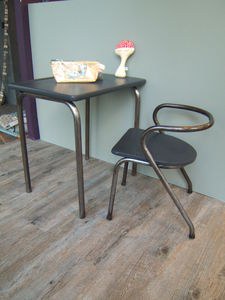 I can't find it now, but I'm on a roll. Isn't there a French department store that repaints plain cribs in a rainbow of colors, plus grey?
Anyway, I heartily support this Gerhard Richter-loving, match-your-Honda grey nursery trend. If you already bought your nursery furniture, and it's not grey, don't worry; it's not too late to get a bucket of paint from the local Department of Transportation and go to town.