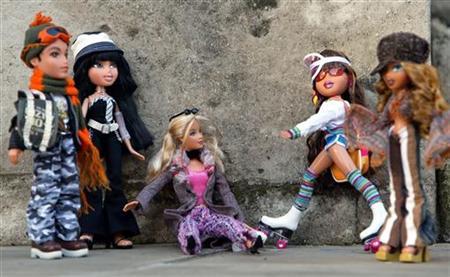 You know, people bitch and moan about the out-of-control litigiousness of the American corporate landscape, and particularly intellectual property laws and the stranglehold rabid trial lawyers pursuing frivolous copyright infringement cases have on good old-fashioned creativity.
But then you read something that makes it all worthwhile. A California judge has issued an injunction against MGA, ordering them to halt production and sales of Bratz dolls because, as a jury found this summer, Bratz were conceived by a Barbie designer named Carter Bryant while he worked at Mattel.
And as a result of Bryant's employment contract, almost all the original Bratz intellectual property, including drawings, models, and trademarks, were the property of Mattel. And even further, MGA was found to have stolen Mattel's intellectual property and then attempted to conceal Bryant's involvement with Bratz for several years.
The judge's order won't go into effect until at least February, to give the companies time to appeal or whatever. But between Bratz and the closing of Club Libby Lu, I expect the street corners outside Toys R Us are gonna be prett-y crowded next spring.
Mattel Wins Order Barring Sales of MGA Bratz Dolls [bloomberg.com]
June 2008: Mattel prevails in Bratz copyright case [reuters.com, also img above by Stephen Hird of Bratz kickin' Barbie while she's down]
A great trial preview from May 2008: BARBIE'S REVENGE | Brawl Over Doll Is Heading to Trial [wsj.com