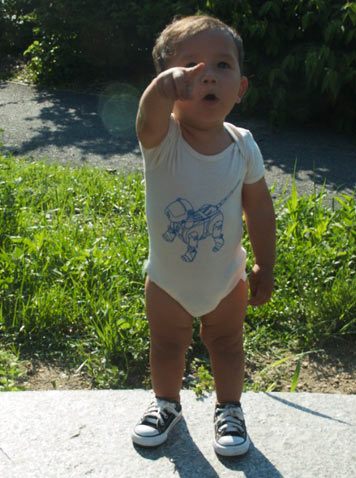 Two Blue Cars is a Brooklyn outfit that makes awesome t-shirts for boys, like this Onesie-style [1] bodysuit with an Aibo-style [2] robot dog on it. Too bad there's nothing for girls, but gender coding runs deep, even in the center of the city's progressive silkscreening district.
Robot Dog onesie [sic], $20, by Two Blue Cars [twobluecars.com]
[1] As early readers of Daddy Types well know, Onesie is a registered trademark of Gerber Childrenswear, Inc., whose lawyers sent DT our first cease & desist order way back in 2004 for quoting someone referring to an infant bodysuit as a "onesie."
[2] Aibo, meanwhile, is the registered trademark of Sony Electronics Corp, and when I was being stonewalled by Sony after my 1st gen, limited edition Aibo was stolen by the FedEx guy, I told the CSR, "Am I going to have to make a website called Aibosucks.com and publicize the Aibo theft ring that you're not acknowledging as the reason my Aibo went missing?" Sony promptly snapped up the domain aibosucks.com and all its variations. So I registered and published aiblow.com instead, and promptly got a call from the President of Sony Robotics, promising my Aibo was on the way. Which was good, because I'd already flipped it to some gadget junkie in Hong Kong for $7,000, and he was waiting for delivery.