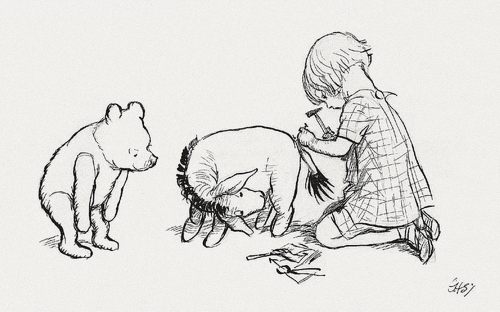 Stanley Seeger and Christopher Cone have amassed and divested themselves of several major collections over the years: Picassos, early and mid-20th century art, and now Ernest Howard Shepard. In London December 17th, Sotheby's will auction off the couple's incredible trove of EH Shepard's original illustrations for A.A. Milne's Winnie-the-Pooh stories and poems.
Most of Shepard's archive, including over 1,000 illustrations for his various books, is at the University of Surrey, so these drawings, which include actual art used in Milne's books, plus preparatory sketches and more, seem pretty special.
Though Milne famously based his stories on his son Christopher Robin Milne and his toys, Shepard based Pooh on his own son Graham's teddy bear named "Growler." Thanks to Wikipedia, we learn that while CR's original toys are on display at the NY Public Library [in fact, they just returned to view this month], while Growler was apparently eaten by Graham's daughter's dog. [Also, it turns out that the Mary Shepard who illustrated Pamela Travers' original Mary Poppins was EH Shepard's daughter. It is a small world after all.]
And a pricey one. the drawings all carry estimates of 20,000-60,000 GBP, so set your bidding strategy accordingly. If you're in more of a browse and study mood, you'll do well to head over to BibliOdyssey, where Peacay has done his usual remarkable job of finetuning the digital images, including removing some of the stray ink marks.
'That sort of Bear': E.H. Shepard's Winnie-the-Pooh From the Collections of Stanley J Seeger and Christopher Cone, 17 Dec 08 at Sotheby's London New Bond St [sothebys.com]
Original Winnie-the-Pooh Drawings [bibliodyssey, also a flickr set]