UPDATE: Lisa Kline says not. Or at least Lisa Kline's publicist does. I spoke with Lisa Kline of Beverly Hills' publicist, who said that, while she wishes she could take the publicity, it's not her Lisa Kline. In fact, her Lisa Kline has never even been to Minneapolis, and she couldn't have dressed Sarah Palin because Lisa Kline boutique doesn't sell suits. Also, if I wanted, she could suggest some great items from Lisa Kline's baby store on Robertson for little Trig Palin for my story. So I guess that clears that up.
I also just spoke with Jon from Pacifier again, and he's still pretty sure that the woman he sold Trig's outfit to looks and sounds like Beverly Hills Lisa in her MySpace video. I guess we'll wait for the real [sic] Lisa Kline to step forward and accept her accolades from the world's media.
LATER UPDATE: Whoops, never mind? The NY Times' Caucus Blog reports that they have attempted to contact the Lisa Kline listed on the RNC's forms. Also, she is Lisa L Kline, while Beverly Hills Lisa is Lisa W Kline. Also, BH Lisa's publicist Kate reiterated her Lisa's denial of any involvement. I think I'll head back to the deadly crib beat and indie plush toy beat now.

Alright, the Palin The $150,000 Shopper saga has officially taken a turn for the ironic.
It's looking like the stylist who actually did the shopping for the Palin Family was a Beverly Hills celebrity boutique owner who also styled Paris Hilton. And not just any Paris Hilton, but the Paris Hilton who made a parody political advertisement mocking John McCain's ad that compared Barack Obama to--that's right--Paris Hilton.
After the big Pacifier story this morning, I thought the baby store angle on this whole Palin thing was over, so I moved some additional research I'd done to my personal blog, greg.org. But then The Pacifier Connection roared back in a big way, and it turns out that our Champion of Small Town America is actually literally a creation of operatives from the GOP and the Hollywood Celebrity Fashion Industrial Complex. Seriously. So check out this still-developing story after the jump.
According to the Republican National Committee's monthly expense report for September, which The Atlantic wrote about earlier today, the payee for several of the fashion-related "campaign accessories" receipts included in the $150,000 Palin Shopping Spree is listed as Lisa L Kine of New York City. So far, I haven't found any such person at the address given in the report.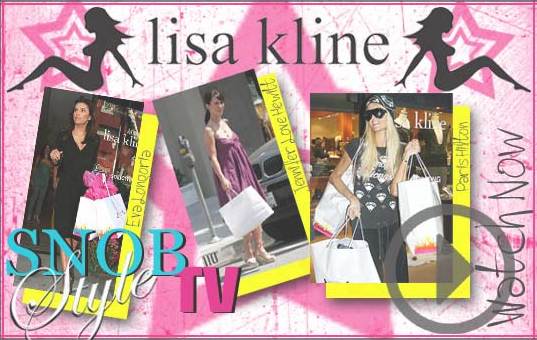 But there is Lisa Kline, whose Google result reads, "Lisa Kline boutique clothing has hot designer jeans and dress shirts inspired by celebrity fashion style. High-end fashion in Beverly Hills..." Indeed, Lisa Kline boutique is on Robertson Blvd, the, Ground Zero [sic] of celebrity fashion.
LA/New York, totally different, right? Except that I forwarded this interview video from Lisa Kline's MySpace to the owners of Pacifier, the Minneapolis baby store. Jon, the co-owner of the shop, recognized Kline as the "GOP aide" who he sold Trig's little outfit to a few hours before Sarah Palin's speech. In an email, he said he's "pretty sure it's her! CRAZY!!!"

[mini-doc] - Lisa Kline from [city of others] on Vimeo.
I've called Kline's publicist several times today and am now awaiting her response. [update: in a blog post, the NY Times now identifies the woman in the RNC report as Lisa Kline, not Kine.]
The involvement of a Beverly Hills celebrity stylist in creating Sarah Palin would be rich enough. But it would not be Kline's only significant styling contribution to the Presidential campaign. Kline provided Paris Hilton with the cut-out leopard-print swimsuit she wore in the parody response to John McCain's ad comparing Obama to Paris Hilton and Britney Spears. [Britney's also a client.]
So what else did Lisa L Kine charge on the GOP's tab? The big tickets, including the five-figure Saks and Neimans charges, are under campaign staffer Jeff Larson's name. As is the $4900 purchase at Atelier, which Politico originally described as a "high-class shopping destination for men." But it's totally not. As I posted on greg.org, the address given for Atelier is in the middle of Times Square--the Doubletree Inn, to be exact--and the only thing remotely close is Atelier Designers, a major womenswear trade show held at the Doubletree during Fashion Week, a couple of weeks after the date on the charge.
Other Kine [sic] expenses are smallish, walking around money-type things that do sound rather stylist-ish:

Pacifier, of course, campaign accessories: $98 x 2 [!]

Macy's Minneapolis, campaign accessories [sic]: $512.92

Gap - MPLS, campaign accessories: $133.

Steiniauf & Stroller in NYC, which is now confirmed to be the fabric/sewing store Steinlauf & Stoller: $98.50, not the $295 originally reported by Politico.

Lord & Taylor, New York City: $349.54

Hilton MPLS, Meals: $26.01

National Camera, Hennepin, MN, Photo supplies: $59.04

Oshman Brothers, NYC, tailoring supplies: $181.91

Delancey Car Service, NYC [hey, I use them! "Gracias por llamada Delancey Car Service!"]: $725

Taxi, location unknown: $211.71

It's worth noting that the date on the NYC expenses, Sept. 25th, coincides with Sarah Palin's visit to the city.

Of course, it's still entirely possible that Lisa Kine is not Lisa Kline, but just another high-powered celebrity stylist who looks like Lisa Kline. But if it's the same person, it means that immediately after slamming Barack Obama for being as substance-free a celebrity as Paris Hilton, John McCain's campaign literally turned around and hired Hilton's stylist to create their own celebrity candidate on the fly. It'd give new meaning to the term, "empty suit."

On a baby-related note, Kline says she asked her OB to cue up the Rolling Stones' "Beast of Burden" during her scheduled C-section.

UPDATE UPDATE: The NYT has some more details about how it's not Paris Hilton's Lisa Kline: Wardrobe Mysteries Linger [nyt]