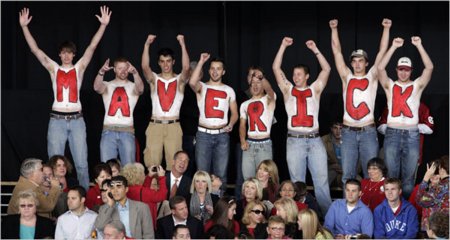 Sure, Sarah Palin's totally unqualified to be president, but to the meatheads at her rallies, she's still a TUTBPILF. The NYT reports on another surefire place to go to avoid hipster baby names [two words: Maverick Maverick]:
"Katie Couric and Tina Fey are going to do their thing, but it doesn't bother me at all," said Rob McLain, an insurance agent from Avon, Ind., who attended a packed Palin rally at an amphitheatre in Indiana on Friday night. Mr. McLain wore a "Proud to be voting for a hot chick" button and was joined by his wife, Shannan ("Read my lipstick" button on lapel), and his 6-week-old son, Jaxon ("Nobama" button on beanie).

"The criticism is part of the process," Mr. McLain said, adding of Ms. Palin, "Who can't trust a mother?"
Stick
that
on your bumper sticker and plow through America's future with it.
Among Rock-Ribbed Fans of Palin, Dudes Rule [nyt/ap image]