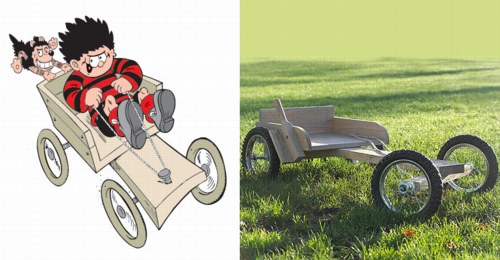 Now I know what Beano Comic Magazine is, and I know that it was all a crazy coincidence, the appearance of two Dennises the Menaces within days of each other in 1951. But the first Dennis the Menace, or as we like to call him in America, the real Dennis the Menace, was the one created by Hank Ketcham, not the British one, created by David Law.
So the special limited edition Beano 70th Anniversary Go-Kart created by The Children's Furniture Company is as fake as the Dennis the Menace they were inspired by. This fake Go-Kart would never in a million years make it past the real Dennis the Menace's product liability lawyers.
Also, the real Dennis would only resurface today as a helmet-wearing skateboarder who can't stop talking about how much he loves carrots and outdoor activity.
Special Limited Edition Dennis The Menace/Beano Go-Kart £195 [thechildrensfurniturecompany.com via retrotogo]
Less special but otherwise identical Kombi Kart, £175