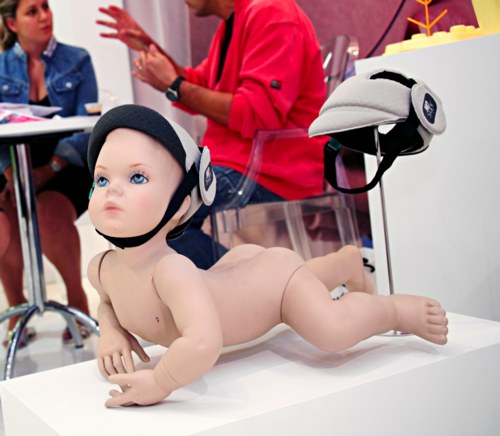 Haha, just kidding, it totally does! On the plus side, he looks like an overprotected, dorky equestrian.
Okbaby is, of course, the Italian firm that brought us the Colibri, the largest portable [sic] changing pad in the world--for moms.
No Shock n.807: "The fun of a hat, the protection of a helmet"! [okbaby.it, image: k+j presse]
Previously: The Thudguard makes me worry about the kid's inherited brainpower
update: so far the comments are unanimous: the No Shock is a straight up, kid-size version of the Hoth Rebel Soldier hat from Empire Strikes Back. Here's a screenshot.
If you added quilted earflaps for the sake of complete authenticity, as the members of the Rebel Legion -- Midwest Base would no doubt insist you must, I'll admit it's possible the No Shock could--could--circle so far past dorkiness it would arrive at coolness. Mod at your own risk.