Tom Wolfe: Did I mention to you I'm pimping out my cars?


NY Observer: Don't think so.

This is my third childhood. I had my second childhood when rock 'n' roll came along--Martha and the Vandellas. Now this is my third; I pimp up cars. One is a 1993 Cadillac DTS. ... The whole interior has been done in white. They took all the stuff out and made it white. I had them paint the rims white. It was kind of like a beige when it arrived, it had a pearly luster to it, it wasn't bad. But I wanted white. The other is a 1996 Buick station wagon. ... It's all white. My wife likes burgundy, so I left a little burgundy. I'm just a hell of a guy, I try to please people.
Hell of a guy indeed. Or he will be as soon as he provides some specs and snaps.
Until we see Mr. Wolfe's all-white-with-a-touch-of-burgundy-for-the-wife version, feast your eyes on this all-black model, from Frank of Sea Girt, New Jersey's fine collection of Roadmaster Estate Wagons from 1996, the last model year of the last full-sized American wagon [1]: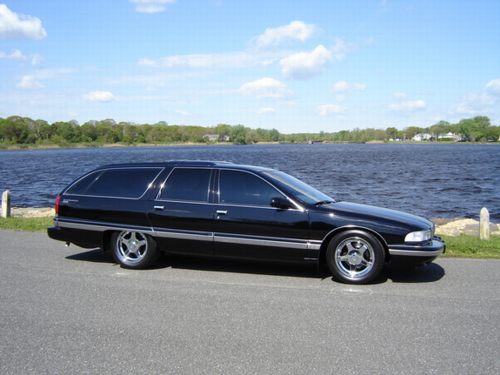 Tom Wolfe isn't worried [observer.com]
Four '96 RM's - 3 WB4 Wagons and 1 LTD Sedan [cardomain.com]
[1] until the 2005-2008 Dodge Magnum, as Dave and Wikipedia both point out.