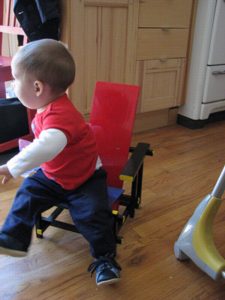 First, let me apologize to all the people who love nothing more than curling up in their Rietveld chairs; they apparently only look unsittable. As little Hugo above demonstrates, they are the height of seated comfort.
After mulling it over for a while, Hugo's dad Juan built this awesome half-scale version of Rietveld's Red Blue Chair just in time for his first birthday. A lot of kid-sized versions of classic chairs are 2/3 scale [1], but half scale turns out to be perfect for a 1-year-old.
Check out the in-progress and completed photos, plus a link to the man with a scan of the plan. Just awesome.
A Boy and His Chair [vamos hugo, thanks juan]
The Chair photoset on flickr [jdeleon's flickr]
[1] OK, I had to check myself on that. The mini-Mies Barcelona chair is 2/3-scale. The Panton Junior chair is 3/4-scale. the knockoff of Aarnio's Bubble Chair is 70%