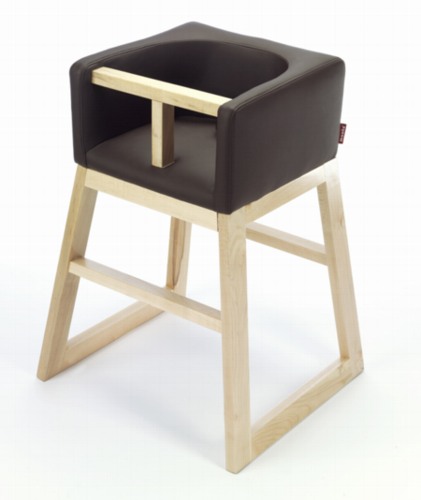 I'm not seeing a lot of reporting or imagery coming out of the ABC Kids Expo in Las Vegas, but even if I did, this sweet high chair would stand out.
It's called the Tavo, and it's by Monte Design, regular DT advertisers who also happen to be Canada's favorite modern glidermakers. Monte have been steadily expanding their kids collection over the last year. The Tavo is made in Canada from bonded leather [a recycled material made of 80% leather and latex, much like your Bible cover] with a maple hardwood base. No tray, it just slides up to or under the table.
The seat's shape reminds me of Ben Af Schulten's classic high chair for Artek , but the color and the upholstered, cushioned element feels very fresh.
Monte also introduced the Alto, a rocker variant of their signature glider, the Luca. Not clear whether it's available in bible cover, though. Ah, I checked. It is not. Suede microfiber and all the other Luca fabrics, you betcha.
Tavo high chair by Monte Design, in stores this fall, $345 [montedesign.net]
Alto rocker, $795, showing up now [montedesign.net]