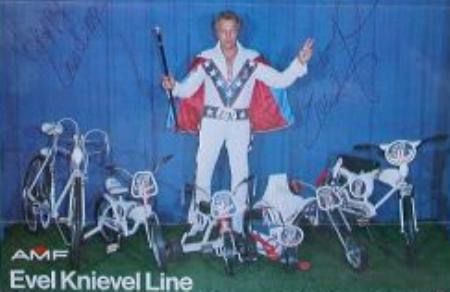 I'll take a flying leap--hehe, yes, pun totally intended--and say, uh, not that many. Maybe a hundred? A dozen? Only two mentions of a 1975 AMF Evel Knievel tricycle seem to have gotten themselves embedded in the auto-compiled text that spammers use to infiltrate search engine results.
The larger-scale Evel Knievel BMX bike with the motorcycle revving sound effects handle grip is revered by Bicentennial-remembering collectors; one's even being offered on Craigslist right now for $1,500. But of course it is. It was their very first bike, the one that got them into BMX'ing in the first place. It made an awesome sound, the sound that got them into motorcycling in the first place. And if nothing else, it was Evel freakin' Knievel, man! Thanks to the visceral memories they evoke, the bikes are safe forever and will get the preservation and restoration they need.
The tricycles are a different story. Who fixates on his first tricycle? Whose formative daredevil memories involved a tricycle, or a tiny, little walking chopper? No, most of these things got tossed out with the Carter Administration.
Which should make them all the more awesome and desirable for the current tricycle demographic. The hunt is on.
via Evel Knievel bicycle on Craigslist [dinosaursandrobots]
Related: Like-a-Big-Wheel, the 1972 Samsonite Minibike