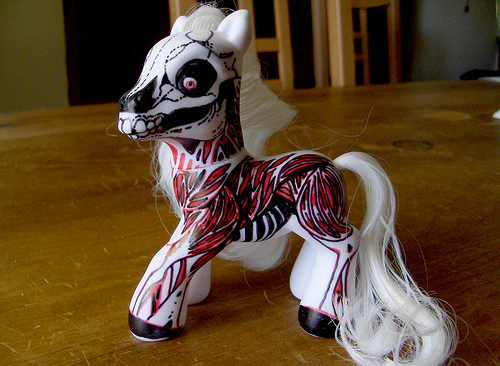 This is only the second artist-modded My Little Pony I've seen that's worth mentioning, and I've seen quite a few lately.

The other is this beaded masterpiece by New Jersey beadist Jan Huling. It's actually for sale on etsy, just $2,500, which is also the best price I've ever seen for a psychedelic, hand-beaded My Little Pony.




My Little Zombie Pony by dbx1 [flickr via notcot]
My Little Beaded Pony by Jan Huling, $2500 [etsy via dinosaursandrobots]

update: Maybe I just wasn't looking in the right place. Anime Amy is an artist well-versed in the medium of My Little Pony. Why, there's My Little Master Chief Pony, My Little Darth Maul Pony, My Little Optimus Prime Pony, My Little Hanson Pony--oh, wait...