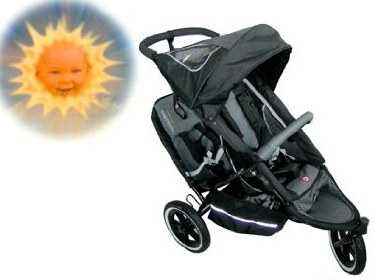 Once the euphoria of stacking two kids into one strollerspace wears off, many Phil & Teds users start thinking about improvements: like figuring out a sun canopy for the rear seat so their other kid doesn't fry. Some track down exotic aftermarket canopies from the Land of Water Going Down The Drain The Other Way. Others, like DT reader Courtney, wait patiently for the P&T accessory that never comes. [But what about The Burqa?? "I know they have that sun protection thing, but I've never seen anyone use one and my son would have none of it."]
And still others, like the woman Courtney saw the other day, just use good old fashioned, brand-be-damned ingenuity:
I thought of you and daddytypes today when I was strolling down the street with my P&T Sport watching a woman lug hers out of the back of her car, stick the doubles seat on and snap onto the doubles seat a matching black canopy. I was dumbfounded. Does she know something that I don't? Did P&T finally put out the canopy that I could picture in my head being on the doubles seat? So I asked her.

She laughed and said that she had another stroller- a Jeep stroller- and she stole the snap-on canopy from that and stuck it on the doubles seat. The best part about it was it was all black and matched her black stroller, it just looked like it belonged.
Sounds awesome, has anyone else tried this? And does Phil & Teds know about either the pent-up demand or the cross-brand solution? Doesn't sound like it:
She also said that she had called P&T and asked them if they made a shade for the back and they told her that nobody ever requested that before...??
Phil, Ted, stop with the iPod nonsense, order up some Kolcraft/Jeep canopies and start knocking off! Kids are frying back there!
Until then, you could buy an entire Jeep umbrella stroller for the cost of a non-extisent P&T
canopy. Or if you're handy with product numbers, you might even be able to order a canopy a la carte, straight from Kolcraft for just nine bucks.
Pictures, part numbers, and details--and other canopy mashups, perhaps?--after the jump:
The canopy Courtney saw was one of the skinny, parasail-shaped numbers, the exact kind you may have seen on a Jeep or Kolcraft stroller and thought, "How the hell does that thing provide any shade?"
Though the canopy on the Jeep Wrangler Twin umbrella stroller shown above is a good color match, the twin canopies are attached in a double-humped "M" shape. And so far, I haven't been able to crack the combination of product number codes, manufacture date, and purchase date for the various Wrangler singles on Kolcraft's replacement parts website. The closest part I can find is this grey canopy [prod no: 76JU003-XCA, mfd and purch. date in 2008]:
JU is apparently Jeep Umbrella [JT is Jeep Twin], but the only other option is the JU005-XIP, which is the very Jeep-like color of Ice Pink:

Other awesomely named Jeep colors include Silver Abyss and Fierce. Seriously.
Poke around at Phil & Teds strollers on Amazon
Look for Jeep canopies with strollers attached on Amazon
Kolcraft: Order replacement parts online [kolcraft.com]