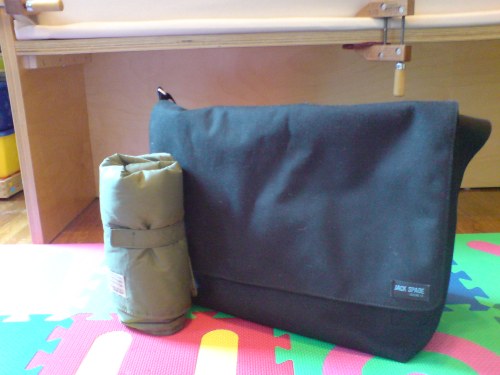 I've been meaning to write this post almost every Sunday morning since K2 was born. When we're sitting in a relatively quiet church service, and K2 starts calling out to the heavens for her bottle, and I reach down to the new Jack Spade dad field bag, and the ripping sound of the giant velcro patches echoes across the chapel. Not dissimilar, I imagine, from the sound of the earth splitting open and swallowing up my sinfully disruptive soul.
So yeah, the bag is too loud to open without attracting attention to itself.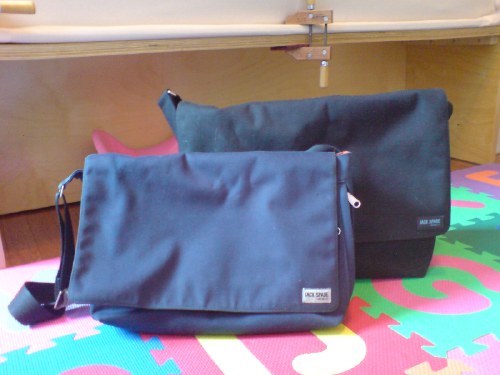 Also, it's too big. It's at least two inches wider, taller, and deeper than my wife's old Jack Spade computer bag, which creates a giant, deep, void that holds so much stuff, you can't find anything. Only some women, most Ikea shoppers, and all hockey players carry more stuff than fits in this bag.
And yet, it's the only Jack Spade bag that comes with bottle-compatible inside pockets. And a changing pad, which is also too big, though it's printed with a soccer pitch on one side, which makes up for a lot. Still, I've used the pad maybe half a dozen times in seven months, and I've only actually needed it once, when the floor of the airplane galley was wet from a rainstorm.
This kind of "purse-plus" diaper bagging makes sense--if you have a purse you're trying to consolidate, or if you're out all day, and the kid's living out of the bag. Otherwise, this is just way too much bag for a baby.
Oh yeah, that's The Crib in the background. Temporary canvas front held on with big, ol' Jorgensen clamps. Work in progress, but also in use. I know, it's a miracle.