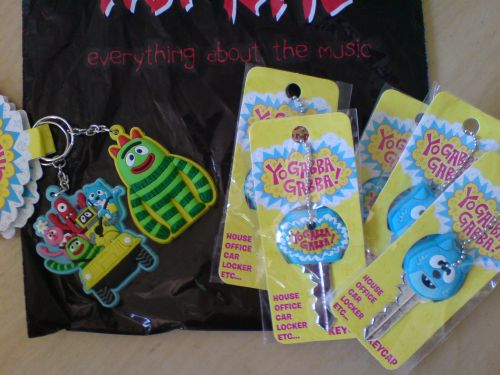 The Mall: The kids and I went to Hot Topic yesterday at the mall. [Actually, at the second mall; the first mall we went to on Wednesday didn't even have a Hot Topic. What the point of our country's massive investment in a strategic national retail infrastructure if it can't provide basic homogeneity?]
Anyway, wow. What a cultural mess. There was an upselling lesson in progress when we wheeled in, it was like the iron-on version of Glengarry Glen Ross: "...If they're looking for notebooks, suggest a folder. If they're looking for shoes, point out the coordinated shoe laces..."
"I'm looking for Yo Gabba Gabba! keycaps."
"Ooh, who likes Yo Gabba Gabba?" Looks at kid. "You?" Never mind that the kid doesn't have a key, or even anything that needs a key, much less a keycap. The Hot Topic business model has nothing to do with need.
The Merch: Anyway, I bought a pile of Yo Gabba Gabba! keycaps, produced by Loungefly, and a couple of matching YGG! key rings, which are not even on the Hot Topic site yet. At the checkout counter, the guy ringing me up goes, "Did you know the Yo Gabba Gabba! tank tops are buy one, get one half off?" I was like, "No thanks, but nice upsell!"
Let me say, after seeing the amazing quality of these $3.99 premium key accessories, you may never be able to go back to the cheap plastic keycaps your local key duplicator tries to offload for a quarter. They're molded in exquisite detail from multi-colored silicon, just like the finest "I'm wearing a bracelet, but I'm not gay! It's for cancer!" men's jewelry.
The Contest: Daddy Types will be giving away these precious objets to 5-7 lucky readers chosen at random. To enter, use a working email address and just add your most superfluous, eye-rolling and/or eyebrow-raising kid's character licensed product--real or imagined--in the comments below. A fruit bouquet with Hello Kitty-shaped pineapple slices? A Muno condom, bumped for her pleasure? A Dora the Explorer lead testing kit? Elmo peeking out of my kid's Pampers? There are no bad [sic] ideas!
The Details: Even though marketers are offering big bucks right now to reach the "Mocks my products, doesn't want to go to the mall, doesn't want to spend four bucks" demographic, email addresses will only be used to contact the winners, and won't be displayed, shared, or sold. Mention as many products or product ideas as you like; you get one chance per comment. Enter by next Friday night [Midnight EST on Saturday, 8/16.]