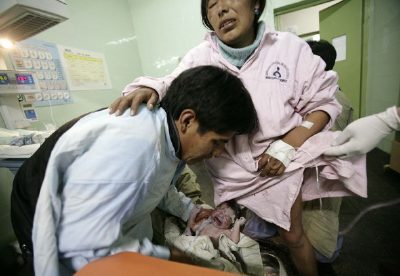 If only I hadn't let my National Geographic subscription expire thirty years ago, I totally would've known this already: some of the indigenous people in Central and South America have a tradition of giving birth standing up or sitting. The Peruvian Health Ministry says it reduces pressure on the uterus, increases fetal blood flow, and shortens labor and delivery times.
Which doesn't mean it's a technique that's supported in many hospitals and clinics. In fact, it's rare enough in Peru that Reuters sent a photographer to report on an indigenous-friendly clinic in Cuzco.
And despite the upbeat government hype, it's a practice that's looked down upon in places like Panama, where the UN reports that many Ngobe moms prefer to give birth at home instead. And so they all have like 12 kids by the time they're 35, which means they never leave the house.
Standing Room Also: Belempampa Health Clinic photoset by Reuters [daylife.com via dt reader sara]
Risking Death to Give Life in Panama's Tropical Forests: Maternal health among the Ngöbe people [unfpa.org]