It's a familiar story by now, actually like five familiar stories:

Parents objecting to the Wal-Martification of American culture: clothing's either racy and inappropriate or loaded down with characters owned by giant corporations. Plus, it's all made in giant factories in China, or by kids in India.

Parents not finding any simple, pared down kids clothing they like end up designing and making it themselves. They get some publicity, other people take notice, and suddenly they're running a business.

A resurgence of appreciation for craft and homemade goods coincides with the global reach and efficiency of the Internet, and suddenly, small, independent businesses are competing with the big boys.

Moms in rural areas band together to create a business that lets them work at home, raise their kids, stay off welfare, and provide for their families.

Over-zealous state police and social workers raid a polygamist compound in BF Texas, take 440 children into custody only to find that, in addition to not having any legal grounds for their actions, there's nowhere to buy the modest, homespun clothing the kids' religious beliefs call for, so they end up buying it from a pop-up business created by the very moms whose kids were seized. "This is not about Wal-Mart quality," says FLDS Dress co-founder Mary Jessop. "The clothes are washable, durable and children proof."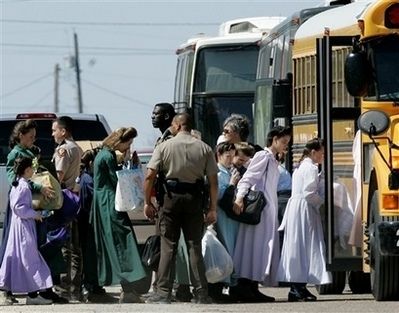 Ultimately, my objection isn't to the polygamist sect's beliefs--even though I see their theology as a woefully distorted, manipulative misinterpretation of my own, it's also an expression of exactly the kind of crazy, into-the-wilderness, "I know, we'll start a religion!" freedom that makes this country great.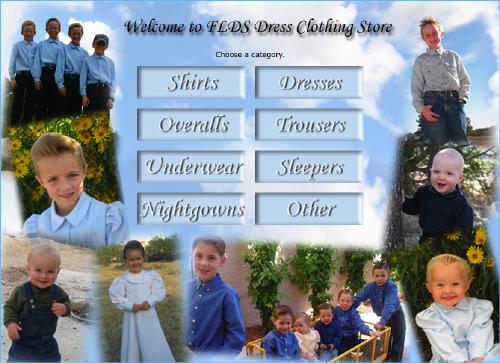 No, my problem is much more worldly. Apparently, you can take the kid out of the polygamist compound in taste-challenged rural America, but you can't take the taste-challenged rural America out of the polygamist's kid. Almost all the childrens clothing in the FLDS Dress online shop is either polyester or some blend, and it's all these freakin' pastels, plus olive and grey. Very odd.
If I'm gonna dress my kid in someone else's religiously inspired outfits, I'll stick to the Amish. That little kid in Witness was so cute!
FLDS Dress: "quality, handmade, modest, affordable clothing. Each piece is made [in the USA!] with joy and care" [fldsdress.com]
FLDS fashions for kids sold on enterprising Web site [sltrib via ksl.com]
Media bias bonus: Whatever your take on the FLDS Church, this is awesomely offensive journalism, never mind it's from a TV station owned by the LDS Church: "Each piece of clothing is purported to be made with joy and care. Critics call the clothing a brain-washing tool." [ksl.com]