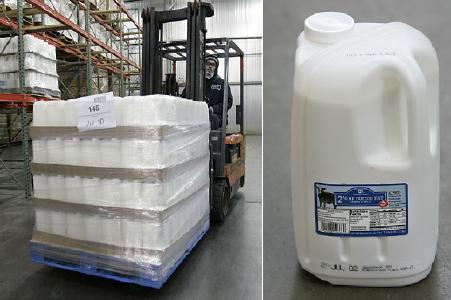 The milk crate's days are numbered. Record collectors, bodega-haunting codgers, and playroom shelf-building dads of the future will curse the name of Greg Soehnlen, the Robert Oppenheimer of milk packaging design, whose square milk jug stacks tighter and four high on pallets--without crates.
According to the NY Times, Sam's Club can fit 224 gallons of milk in the space that previously held 80. They pack tighter in the truck, too, and with no empty, dirty crates to retrieve and wash, the dairy's cut truck trips, fuel costs, labor, and water usage by 60-70%.
The utilitarian-seeming milk crates turn out, in these energy- and environmentally sensitive times, to be the packaging equivalent of a Hummer. But unlike SUVs, whose shiny carcasses will litter the sides of the highway, clogging the lots of increasingly desperate used car dealers, the obsolete milk crates could have a repurposed future. Did Mr. Soehnlen actually just liberate the world's milk crates a higher calling? Soon, you'll be able to put milk crate end tables next to your reclaimed Cadillac Escalade 60/40 split sofa and captain's chair set.
Solution, or Mess? A Milk Jug for a Green Earth [nyt, images: from the audio slideshow, david maxwell for nyt]