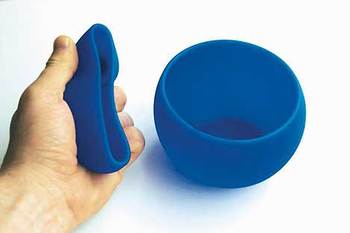 When I saw Josh Guyot's cast silicone Squishy Bowls on MoCo Loco last week, I had a feeling they'd be awesome for kids, not just for their original target market: fetishy backpackers willing to pay a premium for just the right gear.
So I bought some--a set of two [S, L] and a loosie [M]--and they were waiting for us when we got back from the beach.
Sure enough, they are awesome. They're flexible, but don't feel flimsy. They fit easily in a coat pocket or a diaper bag. They're eminently gnawable by small children.
In short, it's like you're eating in the future. A happy, squishy future where everything is "ethically manufactured in China" out of food-grade silicone.

Also, they make a nice, little snowman.