Didn't see that one coming. While getting in touch with my North Carolina roots by poking around the special collections at UNC-Asheville, I stumbled across the archives of the Tryon Toy Makers, a company founded in Tryon, NC during WWI. I had no idea my roots included bringing hillbilly children into town to carve awesome wooden toys for Yankee socialites.
The company was run by two women who had founded Biltmore Industries, a manufacturing and textile operation, for George Vanderbilt. Tryon Toys and Biltmore both were part of an economic development program Vanderbilt and his wife envisioned for the isolated mountain people of North Carolina. Tryon's workers were between the ages of 11 and 15 years old.
With the war on, there were no German toys available in the US; so Tryon made carved wood toys based on European designs provided by the vacationing socialites of Asheville. Though as the toy cabin below illustrates, they also produced their own designs:
...it is the purpose of the founders to keep these delightful mountain and village children close to native soil. This tendency is happily exemplified in Tryon toys, where the most ambitious achievement about to be put upon the market is a typical mountain log cabin with schooner, barnyard trimmings, mountain sheep and goats, dog, cat, the mountaineer and his proud, shiftless brood, the whole carved as only the mountain-bred boy knows them out of native woods and painted in colors true to Nature. This toy, numerous in pieces as Noah's Ark, which they also make, will not be without educational value, if not historical record, beyond the Mason and Dixon line.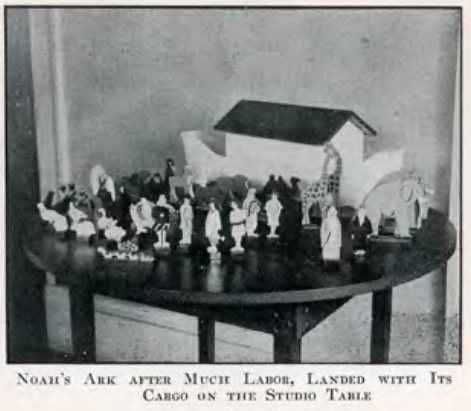 It's not clear to me that many Tryon Toys have survived. UNC-A's archive consists mostly of correspondence and a few magazine and newspaper articles, like the 1917 piece where these photos came from. I'm still trying to process a reality where putting 11-year-old kids to work in factories was actually an improvement in their circumstances.