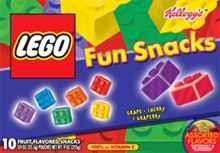 At least judging by the number of people who've sent this to me and the many places I've seen this discussed.
And it's not like I'm pretending to be the first person to notice these Lego snacks; I only got the link from Gizmodo.
Previously, like a year and a half ago: Leggo my Lego! and the DT INAPPROPRIATE FUN SNACKS® CONTEST!