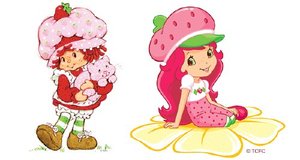 So there was a big licensing expo in New York this week, which apparently resulted in a phony trend story in the NY Times about companies redesigning their old licensed character properties to milk a new generation of nostalgic parents: American Greetings, Inc.'s strategic goal to goose Strawberry Shortcake's license-rich world by making it more "fruit-forward," or the fact that, even without the upfruiting, Shortcake has still generated $2.5 billion of revenue since 2003. [Hmm, it has to be A. Because if the revenues weren't in steep decline, wouldn't they have said, "$650 million/year"?]
Then there's the quote from the Pokemon guy:
For parents, nostalgia is considered a bigger sales hook than ever because of the increasingly violent and hyper-sexualized media landscape.

"It's a terrible world, and modern parents are trying to cocoon their kids as much as possible," said Alfred R. Kahn, chairman of 4Kids Entertainment, which also manages franchises like Pokémon and the Cabbage Patch Kids. "What better way to protect them than wrapping them in nostalgic brands?"
But does it help with out-of-control, manipulative consumerism? No comment?
In addition to the looming cultural apocalypse above, the article tries to position character reinvention as a cautious response to the recession. Never mind that companies have been doing this for. ever, through thick and thin.
Warner Brothers has been screwing up classic Bugs and friends since before that Michael Jordan movie. And Bob Iger talks about reconnecting kids to Mickey Mouse as if there weren't a two-year-old strategy to reposition Mickey & co. for preschoolers. And considering all the American Greetings coverage, there's no mention of the company's reinvention of Holly Hobbie as a third-generation teen mom. [seriously.] And didn't the Teletubbies just relaunch as a pothead hipster brand? It's enough to send me--and the kid--running into the warm, cocooning embrace of entirely new intellectual properties.