The Like-a-Bike knockoff scene is suddenly hopping for some reason. To wit:

A retailer recently commented on the original DT post about the Skuut--the one that busted them for knocking off the Like-A-Bike in China, and the one which called out the so-called toy industry experts at Dr. Toy for giving the Skuut a Best New Ride-on Toy Award of 2006, as if the original Like-A-Bike hadn't been around for almost three years, that post--saying that orders weren't being delivered, calls and emails weren't bein returned. It's not like a Skuut requires a lot of after care from the dealer, but if you're planning on getting one, just make sure your retailer actually has it in stock.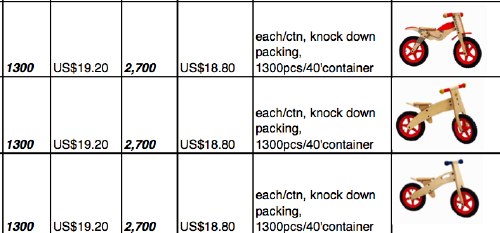 Maybe Skuut's just in China, picking up a new containerload of merch. I got a proposal this week asking if I'd like to go in on a 40' load of walk bikes from the Jolly Arts & Crafts Manufacturing Co. in Ningbo, China. Minimum order's 650, but if we order just 1,300 bikes, the price drops from $19.50 to $19.20 apiece. I'm going to pass, but if you can find 1,298 friends to go in with you, you can beat Skuut at their own two-thirds off game.
Or maybe Skuut just got scared off by Toot Scoot, a new walking bike competitor created by a BMX-riding dad in Wichita, Kansas. While a dad-invented, Made-in-USA walking bike would be a great marketing angle, I suspect that the $80 price tag points back to Ningbo. Either way, Naomi has promised to post a review at Superdumb Supervillain, so stay tuned. [tootscoot.com]