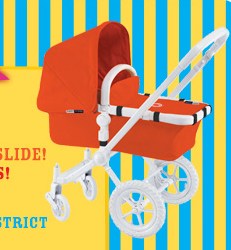 Wow. As of next Saturday, June 7th, Genius-Jones joins the likes of Neiman-Marcus and Stefani-Rossdale by inaugurating their very own custom Bugaboo model.
The Genius Jones Limited Edition Bugaboo will be unveiled at a full-blown "Bugaboo Event," which involves inflatable slides, snow cones, and deals toward Bugaboo accessory purchases. As for the stroller itself, it looks like the ultimate blend of Dutch & Miami style: solid orange fabric over a white-on-white-on-white structural extravaganza of anodized aluminum, rubber, and leather.
The edition will be strictly limited to the number of all-white Bugaboo By chassis the company still has lying around in their Dutch warehouse, so don't dawdle!
No word on pricing, but those original Bugaboo By's were like $2000, so you'll be getting a sweet deal.
Update: Alright, word on pricing from the Genius Joneses is that the limited editions will be $1,395 and only available in a GJ store, no web, no phone. Also, there is an all-blue version, which includes everything you see here:

Watch Genius Jones' website for details on the Limited Edition Bugaboo and the big "Event," June 7, noon-5pm [geniusjones.com]
Previously, but actually the same picture: Bugaboo By--Bugaboo gets Murakamified.