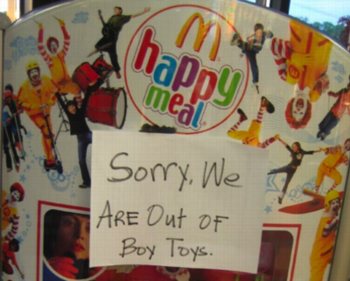 This photo at Consumerist of a funny sign at McDonald's reminded me of the kid's own discovery of the secret of Happy Meals.
Personally, I was just going for the pies, but I couldn't very well just eat pies in front of the kid, so I'd get her a Happy Meal. And by not ever telling her it came with a toy, I could thwart the marketers trying to circumvent my parental authority with their, "I want Speed Racer! Take me to McDonald's!" toy ploys.
And it actually worked for several months. I got my limited-time-only pies--pumpkin, holiday custard, cherry--and I got to feel good about the kid finally eating meat, or at least McNuggets.
Then one day at lunch, some other dad and his two kids, who were older, maybe 4 and 5, sat down in the booth right next to us. My kid was was immediately distracted, and with their underdeveloped sense of urban personal space, the three kids were soon talking amongst themselves.
So when they started playing with their Happy Meal toys, and their dad was all, "Put those down until you finish your food," the kid was all, "I want that toy."
And the boy goes, "But you have your own toy in the box!" Of course, it's not there. Because I'd ordered the Happy Meal "sin juguete," without a toy, a request which had initially confounded the cashier. [Did she wonder how ever could a Meal be Happy without a toy? Had Google Translate led me astray? Was she actually from Brazil?]
After I made a little show of looking into the box and not seeing any toy, all the kids became very concerned. My daughter had been robbed. Only when the other dad helpfully suggested going back to the cashier and asking for the kid's toy did I explain that, in fact, the kid has no idea that Happy Meals are supposed to include toys; I always threw them out because I didn't want cheap plastic junk piling up around the house. And my plan was working perfectly until his kid spilled the beans. He looked as confused as the cashier, even though Google Translate wasn't involved in any way.
But now I was stuck trying to explain to the kid why she wasn't getting a toy, without calling the toys worthless pieces of marketing crap, and without appearing like a judgmental dork. It wasn't going well. So I tried to change the subject by asking the kid if she'd eaten enough of her lunch to have her pie. Bingo. I broke off a piece of my pie and set it on top of the box, with the hoovering of a couple more fries, the toy was promptly forgotten.
And as the kid sat there nibbling on her pumpkin pie, the two older kids stared silently. "What's THAT?" The older girl finally asked. The kid: "This is a pumpkin pie. It's delicious. Did you ever have a pumpkin pie before?" But it was clear they had not. As they began demanding pies from their dad, I he looked at me. I gave him a "Sorry, dude" shrug.