<!form method="get" action="http://dt-go.com/cgi-bin/mt/mt-search.cgi"> <!input type="hidden" name="IncludeBlogs" value="3" /> <!input type="hidden" name="Template" value="daddy" /> <!input id="search" name="search" style="width: 270px; height: 15px;" /> <!input type="image" src="http://daddytypes.com/search.gif" height="18" width="159" border="0"> <!/form><!br />
May 20, 2008
I, For One, Welcome Our New Russian Oligarch Overlords--With These Blocks!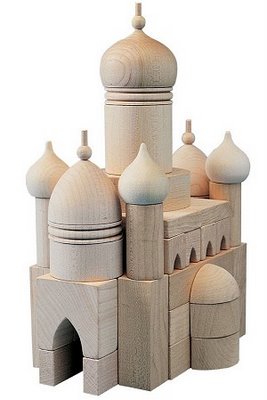 With all their petrorubles, the Russians are buying up the entire art world! Soon they'll be coming for Rockefeller Center. [Will they do any better than the Japanese did? Stay tuned!]
I'm not saying you should fire your Mandarin-speaking nanny, but in order to prepare your child for the next round of Cold War: Peak Oil Edition, I suggest buying her these Russian Blocks, made by the German [!] toymaker Haba.
Russian Building Blocks, 55-pc, ages 3+, $38 [amazon via dinosaursandrobots]
Related:
90-pc Pagoda Building Block Set from Guidecraft, $40
Guidecraft 124-Piece Arabian, Oriental and Greek Wooden Block Set, $56 Oriental?
posted May 20, 2008 11:47 AM | add to del.icio.us | digg this
<!something is wrong with my adserver, so until I fix it, no ads>