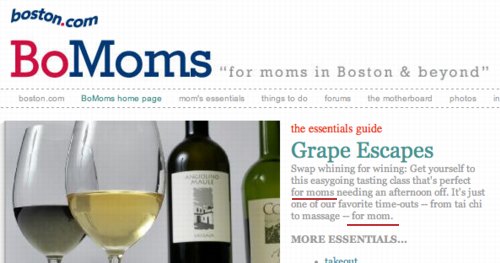 You gotta give them credit for sticking to the concept; when the Boston Globe created its local parenting website/community, they named it "BoMoms: for moms in Boston & beyond." And damned if it isn't the girliest girl talky girl fest this side of the Red Sox locker room.
Above all, BoMoms is a site for busy moms living in and all around the Boston area. But just as importantly, we're all different kinds of moms – our advisory board (which we call The Motherboard), is a mix of women representing different parenting philosophies, ethnicities and cultures, marital statuses, lifestyles, suburbs and urban neighborhoods. We bake cookies (though not always from scratch). We all work (because we believe every mother is a working mother). And above all, we use BoMoms as an essential resource – whether that means getting parenting advice from each other, finding stuff to do with our kids, locating sanity-saving services, or just connecting with other moms and sounding off on this crazy experiment called motherhood. See, despite our differences (or maybe because of them), we're all dedicated to helping each other be the best moms we can be.
It's like it's all been run through a momalyzer bot that sticks "for moms." on the end of every sentence. Sheesh, but that town is a freakshow.
BoMoms: for moms in Boston & beyond [bomoms.boston.com via jason]
Previously, a roundup of local newspapers' parenting sites: Some Parenting Is Local
SF Chronicle Has The Balls To Name Parenting Channel "Bay Area Moms"