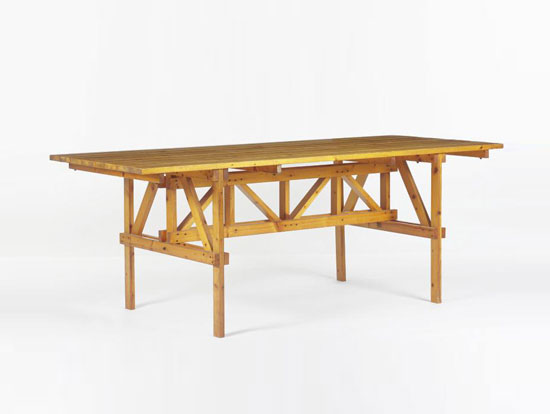 So I'm still kicking around the idea of building a dining table using a design by Enzo Mari [see some longwinded discussion of it here.] It's supposed to be made out of plain, unfinished pine lumber, which you can have cut to order by your local hardwareman. I'm thinking of something a little more offbeat, which means I will probably need to cut the wood to size myself. In the city, with no room for powertools or tablesaws.
Besides, after watching the video of some Parisian woodworker making a Mari table with a Japanese backsaw known as a dozuki, [Generally, Japanese backsaws are called nokogiri; dozuki is the kind that has teeth on just one side, and a reinforcing steel strip on the other.], I really want one. I think. Their appeal is their extreme thinness, made possible because they cut on the pull stroke, not the push, like Western handsaws.

Does anyone have one? Have you used one? How are they? Anything to recommend or to avoid? If I'm mostly going to be cutting lengths of lumber [1-2" thick, tops], do I need to make sure to get a crosscutting blade? Or should I just find someone with a workshop and an empty stomach?
above: A mid-range, 9-in. Takumi Dozuki Japanese handsaw, $37 at Amazon [amazon]
Nokogiri shop talk at Daiku Dojo, a Japanese-style woodworking group [daikudojo.com]