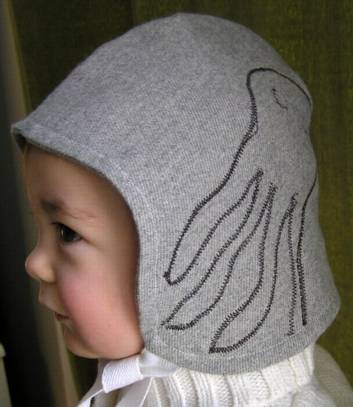 Looks like it's Etsy Day around here. Feel free to chime in.
I don't want to roast my little butterball, either, but the Gilligan Bucket Hat Hegemony in the baby market has been getting me down.
The soft jersey skullcaps by Etsy seller littlemisselodie remind me of something a kid'd wear in a Dutch Renaissance painting, or maybe what Hester Prynne would make for Pearl. If only Pearl's hat had a squid stitched on the side, Dimmesdale would've stepped up and claimed her like a good baby daddy for sure.
Squid cap in cotton/twill, 6-12 mos, $22 [littlemisselodie at etsy, via dt reader sara]