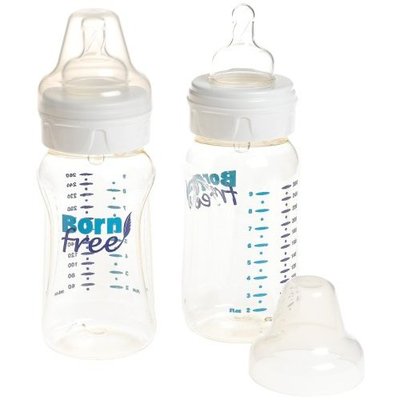 So despite the totally objective wisdom of the JPMA, we gave in to the media hysteria. Actually, my wife just got tired of me making BPA jokes about K2's Playtex bottles, so she picked up a Born Free tempered glass bottle. The verdict: it's fine.
Because the Born Free's heavier, I suspect we'll just use it around the house, and keep a few Ventaire Bottles Of Polycarbonate Death--or at least some Bottles Of Epidemiologically Linked Early Onset Puberty--on hand in case we ever go outside. It's the BPA equivalent of switching to Virginia Slims.
One thing that doesn't hold up: the Born Free multi-variable flow nipple. The nipple has a single slit for a hole, and the idea is that by rotating it, the different angle adapts to the baby's established sucking motion and produces a different flow rate. Or not; it was like the bottle was turned to 11. The kid was drowning in milk no matter what angle she was using.
But no matter, there's another nipple, and the whole thing's silicon, so as far as I know, she can chew on it all day and night if she likes. At least until the toxicology studies start rolling in.