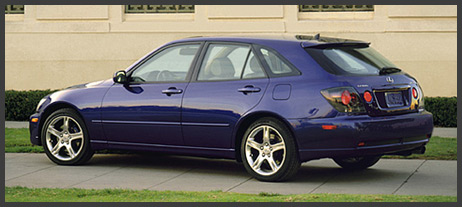 Since I'm not an orthodontist, a middle market hip-hopper, or my parents, I haven't paid much attention to Lexus. So I had no idea Lexus ever made a wagon--or a 5-door hatchback, or a sportback sedan, or whatever phony nomenclature manufacturers used to avoid saying "wagon"--until I saw one on the street.
The IS 300 SportCross [see?] was around from 2002-2005, and it apparently never caught on. [It sold alright the first year, but only 12,000 units the year it was discontinued.] Lexus buyers, even the younger ones in the IS target demo, didn't have the the "active lifestyle" the SportCross was designed for. Or if they did, they bought the RX.
It was the SportCross's oddball proportions that caught my attention. From the C-pillar back, it looks like an entirely different car, or maybe just a different size, like the tail's been enlarged 110%.
But Saabs always looked weird, with a lot of junk in their trunk, and people loved those. They're certainly affordable, $10-15,000 if you can find them. Is the SportCross eligible for reconsideration in these less SUV-friendly times?
See specs for the Lexus IS300 SportCross in the Model Library [lexus.com]