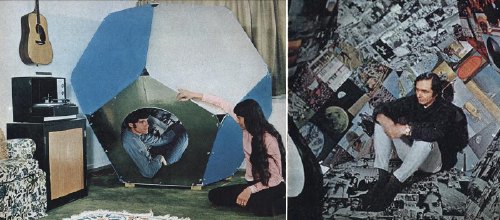 "'Bye for now,' says the man of the house as he retreats into think tank. Though it dominates a room, it can be quickly disassembled. At [right] Isaacs contemplates interior collage."
Ken Isaacs, is there anything modular and plywood you can't do? In 1970, before he became a dad and knocked together the Matrix nursery unit shown in his book, How To Build Your Own Living Structures, Isaacs was a design consultant to Popular Science magazine. PS was, at the time, terribly concerned with helping the man of the house "escape from the pressures of modern life" by pursuing crazy woodworking projects.
The PS Meditator is a giant dodecahedron cut from 3/8" plywood, which is enameled, sanded, and then papered over with a mind-expanding collage of magazine photos of the man of the house's choosing.
This project was conceived to make it easier for all of us to satisfy our need for occasional moments of private contemplation. Enter the Meditator and surround yourself with the graphics which cover its walls, and something begins to happen to you almost at once.

It's difficult to predict, but you may find the sensation akin to that mystical communion with nature that you experience when alone in a forest—or the sense of peace you feel in an empty cathedral. Or you may develop sudden insights as you study the picture-fragments of your world—and be swept by the conviction that you're "getting it all together" at last.
"Getting it together at last" is probably the sense you have after you tighten the last of the 90 bolts holding The Meditator together.
If you contemplate building one of these for the kid and you don't want him to turn out like Keanu Reeves, you should probably forgo the "consciousness expanding" information overload of the Matrix, and just put a set of markers on the inside.
Your Very Own Meditator [modernmechanix.com via boingboing]
Previously: It's my hippie kid in a box! Ken Isaacs' Living Structures
Holy Buckminster Fuller! Dad Makes Playdome At Home