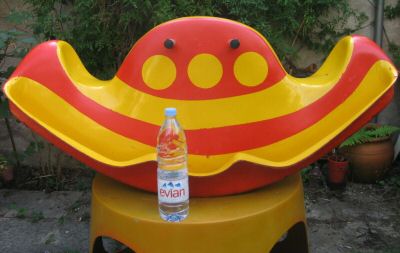 Just in case you didn't learn how to say "rocking horse" in French--because frankly, you were only learning French to pick up chicks, not shop for playground implements--now you know: un cheval à bascule.
Thus, this jouet à bascule, which is being sold by the same eBay seller, ChicPlastic, as that Papst fiberglass kid's table, needs no further translation. It's funny how much it looks like an animal from the side, but then you realize it's just the handles. The thing is basically a giant, ride-on Easter egg.
ChicPlastic dates this to the 1970's, and the giant plaque pop-riveted to the side identifies the manufacturer, Sport France, which is still happily making play equipment north of Paris in Boran sur Oise, just down the road from Parc Asterix. Their favorite material: resine. Yes, even polyurethane plastic sounds better in French.
INCROYABLE JOUET A BASCULE RESINE 70's, EUR200 + shipping [ebay]