While the wife and K2 were in NYC, the kid and I went to the book sale at the library over the weekend. It was in unusually good form: seven books for an embarrassing $1.40, including Bruno Munari's Zoo; John Lidstone's hearty 1968 b&w photo howto, Building with Cardboard; an awesome 1973 collection of Swedish "poems for people who want to grow up equal," from The Feminist Press; and another, better copy--with photo credits, even--of Children and Their Fathers Hanns Reich's great 1960 photo compilation from his thematic Terra Magica series.
It was Fulvio Roiter's photo [above] of a Spanish peasant rocking a suit and a smooth, waist-level baby carrier reminds me of a trip to Amsterdam in the kid-free late 1990's, where I remember laughing at the department store windows at the Bijenkorf across the plaza from the Hotel Krasnapolsky. There were three mannequins wearing typical business suits that had baby slings in matching fabric. At the time, nothing could've been more ridiculous to me; now, of course, I wish I'd at least made a mental note of the manufacturer.
Anyway, Reich's book shows a pretty diverse array of babywearing technologies, and all of them are, by definition, being used by dads. Check them out:
Last things first, Axel Poignant's photo of a kid riding in a grape basket in, of all places, Australia: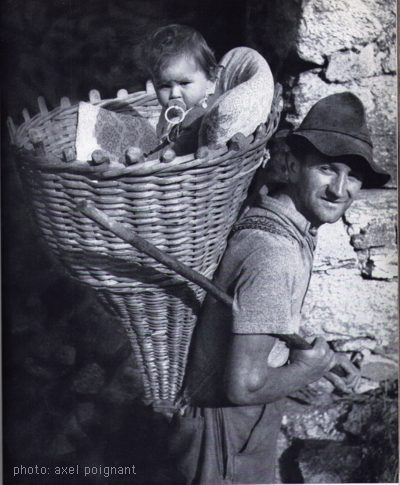 Fritz Fenzel snapped this very clean side carrier in Germany. Notice how unwrinkled his jacket is: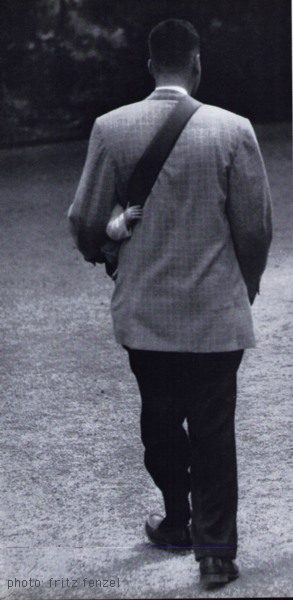 Though he's not identified as such, this Ecuadoran dad in Federico Patellani's photo is a Tsáchila, a tribe better known by the Spanish name Colorados, because they mold their hair into bright red caps. Sounds pretty high maintenance, even moreso than that sling:
In the caption of John Everard's photo, this umbrella-toting dad from Luzon, Philippines is described as a headhunter. Which means he's Bontoc, the one Igorot group which actually practiced headhunting. If an OG like him can't figure out what to do with the extra 10' of fabric on the ends of the sling, who can?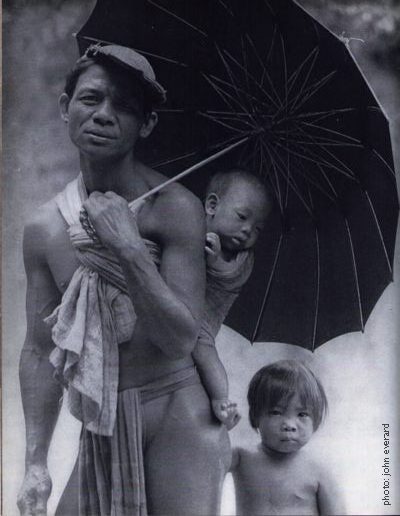 My favorite photo, though, which I first saw uncredited in the Vitra Kid-Size exhibition catalogue, is Hilmar Pabel's shot of a Chinese dad with his biandan [shoulder pole]. Just awesome.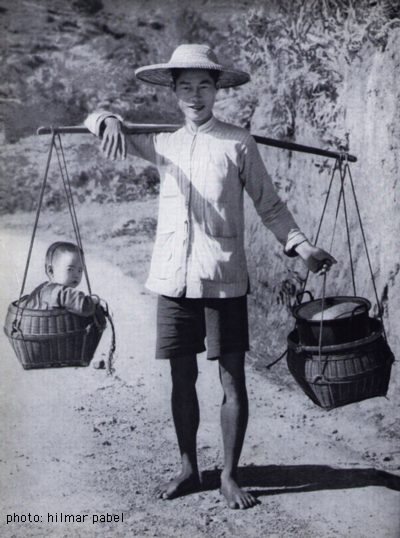 Not as cheap as ours, but mighty close: Check out Hanns Reich's Terra Magica books on AbeBooks [abebooks]
Previously: Hanns Reich's Children and Their Fathers and other titles