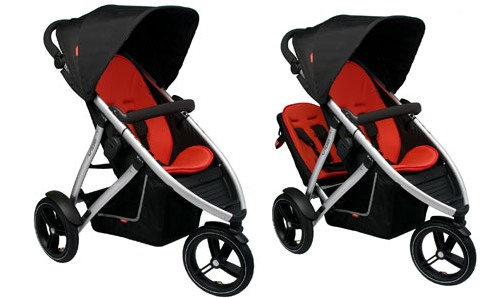 So the most elusive stroller on earth--or at least Middle Earth, as played by New Zealand--is finally here, I think. The all-aluminum Phil & Teds Vibe was launched last fall at the ABC Kids Expo, but the P&T folks were adamant that NO PHOTOS were taken; seems that the year before, some meddling kid of a blog had published a photo of the new, all-aluminum GT--which, depending on who you talked to, was either "coming soon" or "a concept study,"--and they got tired of fielding questions they apparently didn't know the answers to themselves.
Anyway, except for P&T's signature stack-em-low, inline double stroller feature, the Vibe shares little with the company's other models. Its two-strut frame is made from Bugaboo- and Quinny-style extruded aluminum instead of powder-coated steel. [The weight savings is only one pound.] There's a new, complicated fold which, for the first time, lets you fold the rig without removing the double kit. The sun canopy's bigger, finally [the regular P&T canopy's always struck me as being one propeller short of a beanie.], and there's contoured padding. And now the underseat bag/footwell is lined with ABS, so your kid won't put his foot through the fabric when he climbs in.
All around, it's a sweet-looking, higher end-looking Phil & Ted's and a significant improvement over the GT. But was it worth the wait? We ended up spaced out of the double stroller market, so I wasn't waiting for it. Does the aluminum-to-aluminum comparison really change the equation for people deciding between the P&T and other brands--or other Phil & Teds?
Has anyone seen a Vibe offline? [DT advertiser JoggingStroller.com has the Vibe listed as "In stock," but none of the brick&mortar stores I've checked has one yet.]
As for the other new P&T, the Dash, which keeps the company's original steel & Asian soup spoon profile, as of three weeks ago, it seems they hadn't even left the dock in New Zealand. [Sometimes I feel like I've dropped the ball by not tracking all of Phil & Teds' brand and model changes since the E3 branched out into the Classic/SPort/Dash. But then, I've never felt the urge to count the model angels on the head of Maclaren's pin, either. There's Volo, Techno, and everything in between.]
Phil & Teds Vibe, $599 at JoggingStroller.com [joggingstroller.com]
Phil & Ted & Ted & Ted & Ted [spilling the beans]
Phil & Teds NZ site has less info than jogginstroller.com [philandteds.com, via dt reader david]
Previously: ABC Report 2006: Phil & Teds & Steve & Jobs